eXp is a rapidly growing, cloud-based, agent-owned brokerage whose new approach is disrupting a 50-year-old industry.
The company saw a 198% increase in revenue over the past year and now has almost 5000 agents operating in 46 states.
Investors are presented with the perfect time to buy into this rapidly growing company, as the share price is about $8.00 at the writing of this article, check on it at EXPI and the company is set to continue to expand and so will the stock prices.
You probably have never even heard of this brokerage, but it's one of the fastest growing in America. It offers a new way for agents and brokers to sell homes, and has no physical locations. Competing companies are unable to offer the benefits the agents that eXp Realty (OTCQB:EXPI) does, and because of this are running scared.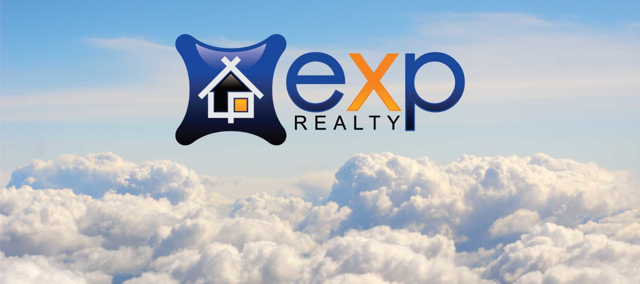 Business Plan
eXp is an interesting company, in that it takes a completely different approach to the real estate brokerage business. It is the first successful cloud-based brokerage and because of this it is able to function without a brick and mortar infrastructure. Now this is a major plus to eXp, because (as with many franchises) the biggest expense to RE/MAX (RMAX), Keller Williams and others are the rents for the physical buildings. Couple this with full time staff, utilities, insurance, CAM and other various expenses, and the costs add up, and start eating away the profits while increased costs taken from the agents and brokers are shocking as well, which means reduced commission income and less brokerage support and services overall.
eXp provides agents support via their proprietary cloud support system, which operates similarly to an online video game. Agents sign up and create avatars, which then walk around on the virtual campus, able to enter into meeting rooms and chat with other agents and a FULL support staff. eXp states that this provides agents with "full spectrum support," and covers everything from transaction support to professional development and collaboration. This also gives agents and brokers the ability to work from any location.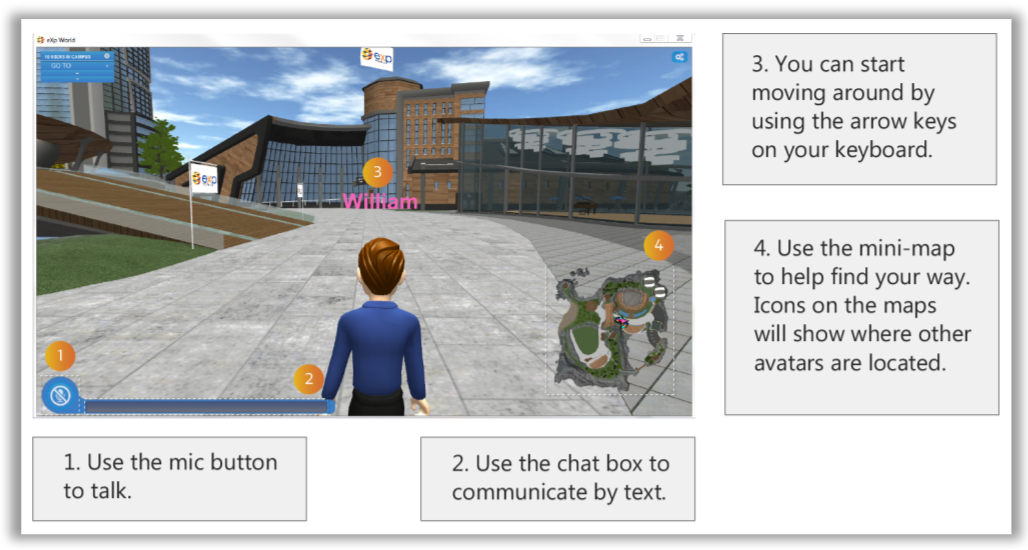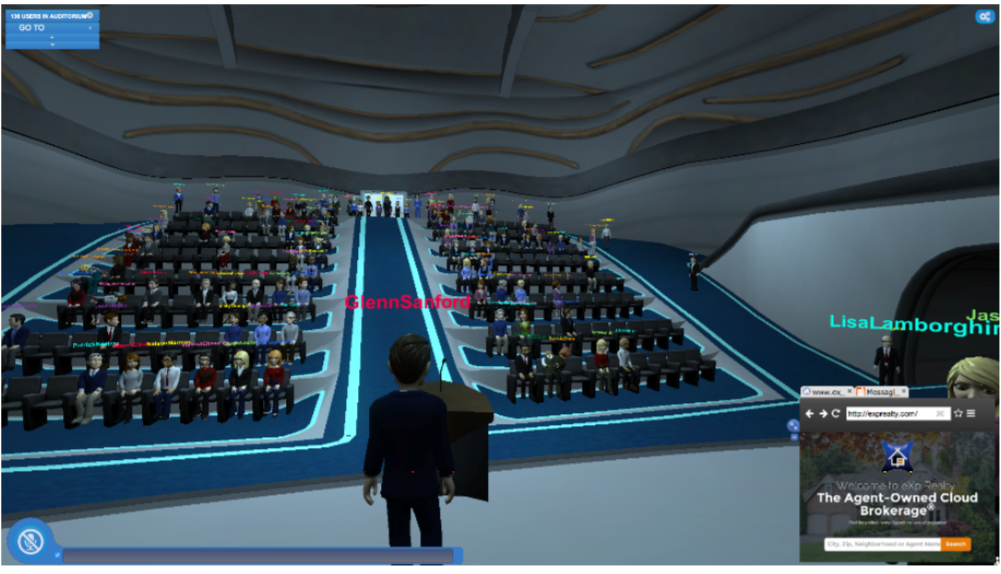 eXp's Online Campus (Source: Investor Presentation)
Because of the cloud support that the agency supplies, they have a limited brick and mortar footprint (except as required by law), which in turn allows them to rapidly enter new markets at a very low cost which is passed on to every agent and broker. Though they were only founded in 2008, eXp has spread to 43 states + D.C. and part of Canada, roughly 210 different multiple listing service (MLS) areas. Instead of taking their revenue and investing in brick and mortar locations and infrastructure, EXPI is able to invest it into their agent incentives, online campus and lower costs, resulting in higher revenue and more shareholder value.
Now, for a company of this size, signing agents is the number one priority, as the more agents you have, the more revenue you make. Moving to eXp is very attractive for agents, with great startup costs, commission structure, and incentives to reach various milestones. There's a $99 flat payment, then a $420 annual subscription to the virtual campus and a $50 monthly technology fee.
Compare that to the $30,000-$100,000 startup cost for a RE/MAX franchise, and it is much easier to enter into eXp. Agent commission structure is also favorable to the agents, where it is an 80/20% split until the agent reaches a cap of $16,000 or $8,000 for thoughts on a team – after that they receive 100% of their commissions for the remainder of their anniversary year. This is very favorable to the agents as the closest other cap is at RE/MAX and Keller Williams being $24,000 or higher, without including their desk fees.
In addition, existing agents are encouraged to recruit others through incentivised network marketing. For every agent that the existing agent introduces to and joins eXp Realty, the existing agent receives a portion of their annual commissions (up to $2800 if the recruit caps). Check out the calculators on the next page.
This cap and low payment from the agents to eXp, allows them to take a lower commission and make more sales. For buyers, eXp offers a great landing page, which operates similarly to Zillow.  Buyers can find a home, sell a home look for new built homes and communities or find an agent . Agents operate as they normally do, hunting/receiving leads from eXp and selling homes.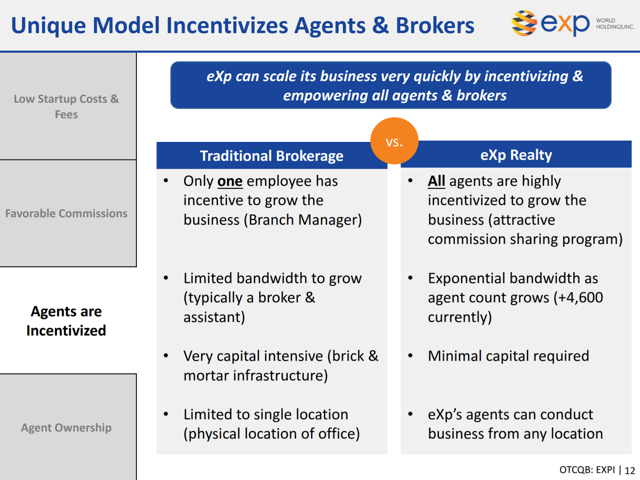 Agents are Incentivized (Source: Investor Presentation)
This just pushes the agents to work harder and get more sales, because it means in the long term their share price will go up. However, it is important to keep in mind that there is only a certain amount of stock out there, so these milestone awards will decrease as the company's agent count increases.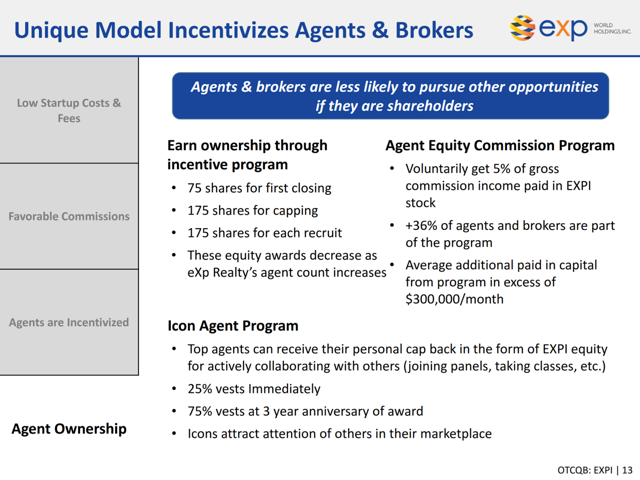 Agents Own eXp (Source: Investor Presentation)
Financials & Agents
eXp has had an explosive, record-breaking quarter/year in both financials and agent count. First, let's take a look at their financials. Net income in the second quarter of 2017 increased to $3.2 million, or $0.05 per diluted share, compared to net loss of $6.0 million, or $(0.12) per diluted share in the same year-ago quarter.
Revenues in the second quarter of 2017 increased a stunning 198% to $39.6 million, compared to $13.3 million in the same year-ago quarter. Sequentially, this represents growth of 80% when compared to $22.0 million in the first quarter of 2017. This stunning growth in the quarter alone just goes to show how undervalued these shares are.
Management was extremely optimistic. CEO Glenn Sanford stated, "We expect the pace of growth to continue in the second half of 2017, as we leverage the viral growth aspect of the eXp Realty model and growing our brand throughout North America. We believe our investments into core infrastructure and software development should also offer greater economies of scale and a notably increased capacity to onboard new agents to the eXp Realty platform moving forward."
Like the stunning revenue growth, the cloud-based brokerage's agent count also recently skyrocketed due to the great agent incentives, and aggressive network marketing (referral incentives [commission sharing program and equity ownership awards]). In the second quarter of 2017, eXp Realty added 800 agents and brokers to its platform, an increase of 169% when compared to 297 agents and brokers added in the second quarter of 2016. Looking at the agent count from the company's conception, is even more stunning with Q2 of 2017's agent count towering over previous quarters. Right now the agent count exceeds 6000 and growing.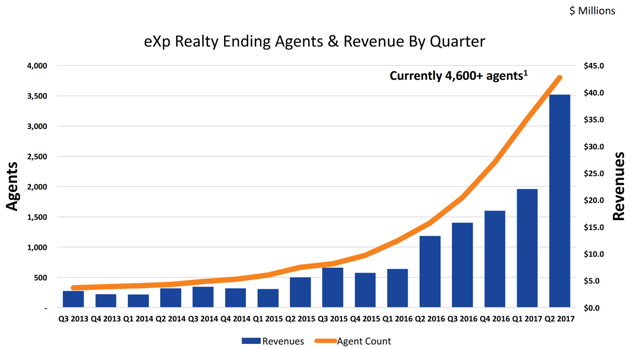 eXp Realty Ending Agents and Revenue by Quarter (Source: Investor Presentation)
Future Growth
eXp has a clear plan for their future. Currently, the company is making most of their revenue from the non-capped real estate transactions through their agents, and this will continue to be the supporting revenue of the company. However, they do have plans to grow into other markets, such as mortgage origination services, title & escrow services, and homeowners insurance. The company states that in the next 12 months, they plan to launch some affiliated services in select areas where the company has reached critical mass. This will be a great growth catalyst for the stock and be great for the company.
Management
No company, large or small can function and grow without a good management team and eXp has a stellar collection of people. CEO Glenn Sanford has been actively involved in the online real estate space since 2002 and was a consultant to Keller Williams. Mr. Sanford is also the chairman and founder. Mary Frances Coleman, the General Counsel, was CEO and President of Realty Executives and Vice President of HomeSmart International, both leading international brokerages before she moved to eXp. Alan Goldman, CFO and Jason Gesing, CEO of the Real Estate Division also both possess great expertise in their respective areas.
Share Valuation Compared To Company Growth
Now, in this point of the article, you're probably wondering why the company does not reflect its value in its share price. Well, first, I would like to point out its starting price and growth since its IPO. eXp had its IPO in November of 2013, going for $1 a share. After some rough patches, the share value skyrocketed and in May 2015, reached the share price of $1.54.
This was a growth of almost a thousand percent from its all-time low of $0.13 earlier that year, and the share price just kept on climbing. In 2016, while the stock market was on a downturn, eXp just kept on growing heading to its all-time high of $5.43 nearing the end of that year. This was due to a series of catalysts including launching in Alaska and a number of high-profile luxury real estate agents joining the company.
The main reason the share price is not going through the roof is due to eXp's limited reach to investors. Yes, the company is experiencing great growth, has a strong management and great momentum but investors don't know about it. The company only has 400 followers on Seeking Alpha. It is also important to note that the company is only 9 years old and has only been public for 4 years. So yes, of course, it does not have the share price of $60 like RE/MAX does, because it's so young.
Investors should know, while yes, this is a small-cap over-the-counter traded stock, it is a long-term investment. Sure, you can make a quick payday of maybe 50% in a month, but you may lose that in the following month due to the fact of its low volume and low price leading to a high volatility. With the company's growth, rapid expansion, and great management you're definitely going to end up with extremely high positive returns in the next 3, 5, 10 years.
Right now, the thing that is going to move the share price the most is publicity. When analysts initiate ratings, when earnings come out and when some high profile real estate agent makes the switch to eXp, you will see this reflected in its share price. And, you will also see the rapid growth of agents and revenue of the company reflected in its share price over time. When EXPI's share price is finally large enough to meet the requirements to list on the Nasdaq or NYSE, the company will really pop. This is a great long-term play due to these factors.
Conclusion
eXp Realty, the cloud-based brokerage that few agents and brokers know about is a great investment specifically for that reason. Share value, trading at $3 to $4  to 8 and more will allow for EXPI to experience massive share price growth and gives investors a great entry point. Due to its already stunning financial and agent growth, this new approach to real estate brokerages is already proven to work. All investors need to do now is sit back and wait for the returns to come in.
Continue to check us out and then give me a call at: 919-670-1400.